Mark Duggan death: Marksman may return to duty in weeks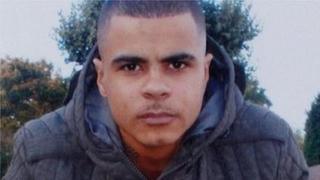 The police marksman who shot dead Mark Duggan could return to duty within weeks after an inquest jury found Mr Duggan's death was lawful.
The Metropolitan Police said the "post-incident support programme", which involves medical tests and refresher training, had begun for the officer.
Met Commissioner Sir Bernard Hogan-Howe said the officer, known as V53, would not be rushed back to firearms duty.
The 29-year-old's family has been told about the move.
Mr Duggan was shot in August 2011 in Tottenham, north London, after the taxi he was travelling in was stopped by armed police.
They said they believed he was planning to collect a gun from another man before going on to Broadwater Farm, possibly to attack someone in revenge for his cousin's death.
Last week, a jury found that when Mr Duggan was stopped, he had a gun on him which he then "more likely than not" threw aside before he was shot.
His death led to riots in many English cities.
'Closes the file'
In a statement, the Met said: "It is only after this process [the support programme] has been completed, which can take a number of weeks, that officers are eligible to return to carrying a firearm or commanding an armed operation if they choose to do so.
"Any suggestion the officers will immediately be deployed with firearms is premature."
The coroner who presided over the inquest has said he will consider submissions from interested parties which could contribute to his report on the death.
Judge Keith Cutler said: "I do not want to be part of a justice system which in a case of this nature simply closes the file and moves on to the next."
He added: "There have been a number of issues and areas of evidence which may deserve further examination or question... given the significant profile of this case I want to ensure that this process is transparent to all interested parties and the general public."