Morocco trek boy Samuel Boon's parents criticise World Challenge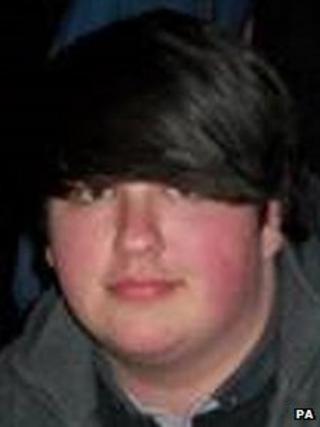 The parents of a boy who died while trekking in Morocco have criticised the trip's organisers after a death by misadventure inquest verdict.
Ken Boon, father of Samuel, 17, said he would not have allowed his son to go if he had known about the lack of arrangements for emergency care.
Samuel collapsed on the July 2012 trip as temperatures soared to 40C (104F).
World Challenge, which organised the school trip, said it had since put new safety measures in place.
The coroner said Samuel's physical fitness for the trip had not been properly assessed and there were no arrangements in place for an ambulance with medical equipment in case of emergency.
The cause of Samuel's death was either exertional heatstroke and/or hyponatremia - a condition where salt levels are reduced in the blood because of excessive intake or retention of water, the inquest at Bromley Civic Centre heard.
The World Challenge trip was due to last 14 days and included a six-day trek to Amezmiz in the High Atlas foothills.
Following the verdict Mr Boon said: "If we had known that in an emergency there would have been no helicopter, no ambulance, no medic - in fact the best emergency response available was a minibus with no medical assistance - we would never have allowed Sam to go.
"In fact I don't think there is any school in the country that would go."
'Highest priority'
World Challenge managing director Matt Eastlake said: "Samuel Boon's death was an absolute tragedy and our deepest sympathies remain with his family and friends.
"World Challenge's highest priority is the safety of its participants and as the coroner noted, we have introduced a number of new measures since Samuel's death, especially in terms of monitoring participant fitness.
"We will take time to reflect on the coroner's findings and give serious consideration to any change or development where we feel appropriate which will improve safety further."
After Samuel collapsed, a local guide was asked to get an ambulance.
It was more than an hour later that a minibus arrived at a nearby road to transport the teenager to a local medical centre, the inquest was told.
"Plans for evacuation relied almost entirely upon local agents to find and obtain appropriate facilities," Selena Lynch, the assistant coroner for south London, said.
"They were appointed without their qualifications being checked or references obtained, and were not given any formal training.
"There were no arrangements in place for an ambulance with medical equipment and/or personnel to be provided in an emergency, and the facilities at local medical centres had not been assessed."
'Quickly became unconscious'
Mrs Lynch added: "Samuel and his parents were given inadequate and misleading information about the level of fitness required or the risks involved in the trip and how they would be managed.
"He was not adequately assessed as to his physical ability to participate."
Samuel was prescribed a medication for bed-wetting, which could contribute to hyponatremia, but this could not be determined.
His "obesity and lack of fitness and acclimatisation" may have also contributed to his death, Mrs Lynch said.
The inquest heard that Samuel collapsed at about 15:30 and "quickly became unconscious".
Leaders gave first aid and attempted to cool him. He was carried to the road when his breathing stopped.
"Cardiopulmonary resuscitation (CPR) was performed by the leaders and Samuel was placed in the aisle of the minibus," said Mrs Lynch.
"By this time it was probable that Samuel's life could not have been saved even with advanced medical treatment."
Mrs Lynch said she would send a report to the Department for Education.
Sam Elms, chief executive of Bexley Business Academy where Samuel studied, said: "If we had been made aware from the beginning that in the event of an emergency the best that we could hope for was a local minibus with not even the most basic medical facilities or equipment on board and no trained medic to save lives, we would not as an academy have signed off on the trip."