Duggan police to appoint 'community engagement' officer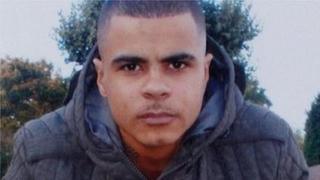 The Metropolitan Police are to appoint a senior officer to improve "community engagement" after the inquest into the killing of Mark Duggan.
Speaking to the Home Affairs Select Committee, Assistant Commissioner Mark Rowley said police hoped to make a decision on an appointment this week.
Last week, a jury concluded 29-year-old Mr Duggan was lawfully killed when he was shot dead by police in August 2011.
Mr Rowley said he was "concerned" the jury's conclusion had been questioned.
"The jury system is obviously a big part of British justice," he told the committee.
"We're a little concerned that some public figures have questioned the jury's verdict and we believe the verdict should inspire confidence that the modern Met is professional, well trained, judicious in its use of force and ready to be held to account for its actions."
Family meeting
Scotland Yard was poised for extreme left wing groups and local gangs to hijack a vigil staged by relatives outside Tottenham police station on Saturday, Mr Rowley said.
Armed criminals "chanced their luck" in the days after the verdict believing the Met would be "too timid" to run operations but eight firearms were seized and the same number of arrests made, he told the committee.
Mr Rowley said: "As we approached the weekend I had two streams of intelligence that concerned me. One was of multiple extreme left wing protest groups looking to take part in the vigil and some of those have previously been associated with disorder and secondly there was intelligence of local criminal youth gang members expressing the desire to prompt disorder."
But the vigil passed peacefully and relatives of Mr Duggan's family proclaimed "we are not a gangster family" .
Mr Rowley also added the Met Police Commissioner Sir Bernard Hogan-Howe had offered to meet the Duggan family, but the family were "not keen on it at the moment".
Earlier, members of the Duggan family met the Independent Police Complaints Commission. Details of that meeting have not so far been made public.
The assistant commissioner also revealed the Met had reduced the use of stop-and-search procedures while increasing its effectiveness with a higher arrest rate.
"The commissioner has significantly reduced by 37% our use of stop and search in the past two years," he said.
"We are better led by intelligence and this has led to a massive increase in the proportion of searches producing arrests."
In one London borough, body cameras were already being used by officers involved in stop and search, he said.
After the inquest verdict, it was announced firearms officers would start wearing video cameras by April.
Mr Rowley said his force was "committed" to introducing the use of body cameras and wanted to test the logistics of carrying the cameras before rolling them out more widely.