London mayor calls for Southbank skatepark to remain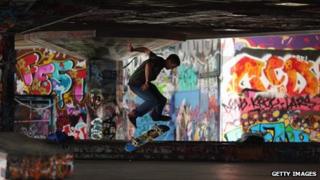 A skatepark located in the undercroft of the Southbank Centre should be allowed to remain in its current location, Mayor Boris Johnson said.
He said the space is the "epicentre of UK skateboarding" and "part of the cultural fabric of London" since 1976.
As part of a £120m revamp Southbank Centre wants to turn it into a retail space and relocate the skatepark 120m away under the Hungerford Bridge.
The centre said the mayor's "unexpected statement" had come as a surprise.
Existing 1960s buildings in the Festival Wing, including the Queen Elizabeth Hall, Purcell Room and Hayward Gallery will be refurbished and the space between them will become a new atrium encased in glass.
Financial gap
Speaking at a preliminary planning meeting at City Hall, Mr Johnson said he "wholeheartedly" supports plans to revamp the centre, but added: "Redevelopment should not be at the detriment of the skatepark, which should be retained in its current position.
"The skatepark is the epicentre of UK skateboarding and is part of the cultural fabric of London.
"It attracts tourists from across the world and undoubtedly adds to the vibrancy of the area - it helps to make London the great city it is."
In a statement the Southbank Centre said: "We are surprised by the mayor's unexpected statement.
"We look forward to hearing how he intends to fill the financial gap that now stands between us and our ability to provide free art and culture to millions of Londoners.
"In the meantime, the Southbank Centre board must consider the implications for the future of the project if he fails to do so."
Long Live Southbank, which has been protesting against plans to move the skatepark, said it was "delighted by Boris Johnson's intervention".
"Given his ability to direct refusal of the application were the Southbank Centre to continue with it, this is a huge and decisive step in maintaining one of London's most iconic cultural landmarks," it added.
The consultation on the plans ended earlier this month and the planning application will be considered by Lambeth Council in February.