Giuseppina Fazzani death: Man sentenced to 13 years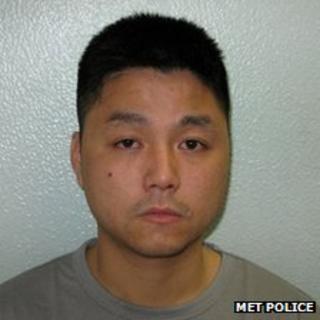 An arsonist has been sentenced to 13 years in prison for the manslaughter of an 82-year-old woman who died in a flat fire in south-east London.
Giuseppina Fazzani died in the blaze in Deptford on 29 May last year.
Vietnamese national Tuan Anh Le, 23, of no fixed abode, was found guilty at Croydon Crown Court.
He was sentenced to 13 years for manslaughter. He was also sentenced to 10 years for arson, which will run concurrently.
Police said Le set fire to Ms Fazzani's address as well as a neighbouring bar after taking issue with the bar's owner.
'Devastating crime'
He was pictured driving up and down the high street on the night of the murder before buying petrol and setting fire to the XO bar and Ms Fazzani's home.
The pensioner, who had lived in Deptford High Street for most of her life, was asleep in her ground-floor bedroom on the night she died.
Her niece, who was sleeping on the second floor, was woken by the smoke alarm but could not reach her aunt due to the heat. She was rescued from the property.
Ms Fazzani was found unconscious beside her bed with serious burns and was treated by paramedics, but was pronounced dead at the scene.
During the trial, Le tried to claim he had been forced into setting the fires, police said.
Ms Fazzani's family thanked members of the public who called the fire service that night and "undoubtedly" saved the life of her niece.
In a statement after the trial, they said: "The loss of an elderly loved one is always difficult. Giuseppina Fazzani was 82 years of age, still very much living her life to the full.
"To lose her in such a cruel, horrific and senseless way has been devastating for all her family and friends."