Cutty Sark in Greenwich to become theatre venue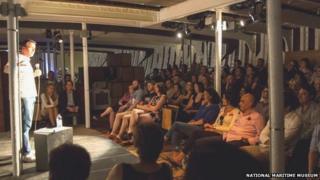 The Cutty Sark in Greenwich is set to become London's newest theatre venue.
From 29 January, a fortnight of special performances will feature comedians such as Ross Noble and Alan Davies.
The 85-seat venue is located in the lower hold of the 19th century clipper, where precious cargoes of tea and wool were stacked during its voyages.
It has been named the Michael Edwards Studio Theatre after the theatre producer behind comedy Barking in Essex, who is also a Cutty Sark trustee.
The tea clipper, built in 1869, reopened in 2012 following a £50m conservation restoration project after it was badly damaged by fire.
As part of the restoration, visitors are able to walk under the three-masted ship as well as go on board and learn about its history in the museum.
Cutty Sark's director Richard Doughty said the studio theatre project was designed to attract new audiences who might not usually consider visiting the historic ship.
"Our aspiration is that the development of Cutty Sark as a flexible theatre space will enable us to reach out to new audiences who can discover the ship in a whole new way," he said.
"This opening fortnight sets the agenda for Cutty Sark to become a unique new venue in the heart of Greenwich and London."