Tottenham Hotspur football fans warned about language after charges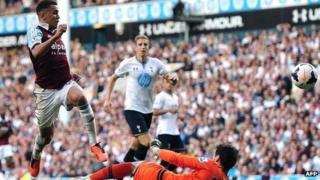 Tottenham Hotspur has warned its fans to be "mindful" of using the word "yid" after three supporters were charged.
Gary Whybrow, Sam Parsons and Peter Ditchman allegedly used the word, meaning Jew in Yiddish.
They are charged with using threatening, abusive or insulting words.
In a statement on its website, the club said it did not believe its fans use the word with "deliberate intent to offend".
It added: "the use of the word can be considered a criminal offence."
The club said it maintained a "zero tolerance position on anti-Semitic abuse".
Tottenham Hotspur said last year about 11,500 fans had submitted their thoughts on the use of the word, but it had decided not to publish the findings while the criminal case remained active.
Mr Whybrow, 31, from west London and Mr Parsons, 24 of Amersham, Buckinghamshire, are accused of using the word during the Europa League game against FC Sheriff on November 7,
Mr Ditchman, from Bishop's Stortford, is accused of using the word during a Premier League clash with West Ham on October 6.
The are all due to appear before Hendon Magistrates' Court on 4 February.