Mother of Daniel Spargo-Mabbs held boy as he died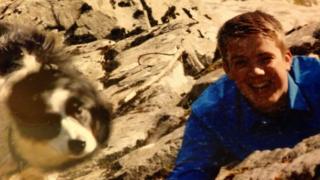 The mother of a teenage boy who died after taking drugs at a rave has described how she held him in her arms as he died.
Daniel Spargo-Mabbs, 16, was taken to hospital in the early hours of Saturday after becoming unconscious at a rave in Hayes, west London. He died on Monday.
His mother, Fiona, said her son wanted to join the Army.
"He could have gone to Afghanistan and been blown to smithereens, but I got to hold him while he died," she said.
"It was so peaceful and we all got to say goodbye and we were all with him."
Adult education manager Mrs Spargo-Mabbs said her son had never taken drugs before and had known about the negative effects of drugs as a relative had battled drug addiction.
"We told him just don't even do it once," she said.
"You just don't know if that's going to be you. But Daniel would have known people that would have done it and said it was amazing.
"However good they are and however much you think you know what they might be aware of, if you've got a teenager they will know people who have taken drugs.
"And it's frighteningly cheap, it's pocket money."
She said she had been told that Daniel spent £20 on the drug.
The couple, who also have an 18-year-old son Jacob, have had messages of support from all over the world and hope to raise awareness of the dangers of drug-taking.
Mrs Spargo-Mabbs said she always hugged her children goodbye every time they left the house after she heard the mother of murdered teenager Jimmy Mizen mention the comfort she got from their final goodbye.
"He knew that I loved him and I know that he loved me. Every time he texted me, he always put two little kisses at the end.
"I feel so thankful to Margaret Mizen for giving that to me after her awful tragedy."
A post-mortem examination is due to take place later.
Nicqueel Pitrora, 18, from Croydon, and Ryan Kirk, 20, from Beckenham, both south London, have been charged with being concerned in the supply of Class A drugs following Daniel's death.