Second union joins 48-hour Tube strikes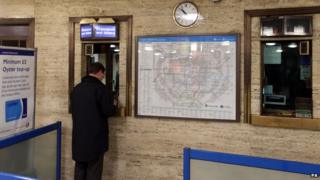 Members of the Transport Salaried Staffs Association have voted to join two 48-hour Tube strikes in protest at the closure of ticket offices.
The Rail Maritime and Transport Union has said its members will walk out from 21:00 GMT on 4 and 11 February.
Staff will stop work on both days, while drivers will not book on for any shifts during the strike.
Transport for London has said plans to close ticket offices and axe 750 jobs would save £50m a year.
The Transport Salaried Staffs Association (TSSA) said its members backed industrial action by 58.8%.
The union's general secretary Manuel Cortes said: "It is now time for Boris to sit down with his staff representatives and negotiate a sensible deal which will protect the safety and security of the travelling public as well as the long-term interests of our members.
"We think he is too ready to gamble with safety by abolishing permanent station supervisors in this closure plan, a plan which stands on its head his promise in 2008 to keep open every ticket office."
Abandon 'unnecessary' strike
TfL is facing a £78m cut in its budget for 2013 and 2014.
Phil Hufton, LU's chief operating officer, said: "We're committed to implement changes to station staffing without compulsory redundancies and we've been clear that there'll be a job for everyone at LU who wants to work for us and be flexible.
"I reaffirm these commitments to the TSSA leadership, whose own Passenger Charter detailing what they want from us is identical to the commitments we have already set out.
"I am urging them to abandon this completely unnecessary strike action and to proceed with the consultation that is underway without threatening to disrupt Londoners."
Talks between London Underground management and the unions will resume at the conciliation service Acas on Tuesday.