Driver jailed for eight years for PC Andrew Duncan's death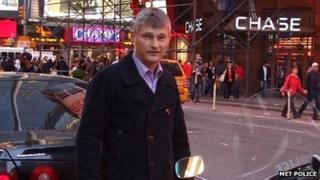 A man has been jailed for eight-and-a-half years after he ran over a police officer who tried to stop his car.
PC Andrew Duncan, 47, was hit by a car in Sutton, south London, while checking vehicle speeds in September.
Gary Cody, 25, of South Norwood, was doing a maximum of between 80-88mph (125-142km/h) before he hit the officer.
Kingston Crown Court heard he kept newspaper clippings about the incident in his prison cell which he showed to fellow inmates.
'Staggering' previous offences
In December, Cody, who is also known as Gary Bromige, pleaded guilty to causing death by dangerous driving, driving while unlicensed, unqualified or uninsured, failure to stop and failure to report an accident.
Sentencing Cody, Judge Nicholas Price QC said the 25-year-old had a "staggering" 88 offences and 35 convictions.
"The contrast between your short life and that of PC Duncan could not be more stark.
"He was simply doing his duty when your vehicle struck him."
The judge added: "I struggle to find anything of real benefit to be said on your behalf."
Police said Mr Duncan had been working on a speed enforcement operation with a colleague in Reigate Avenue on 20 September, when they noticed a black VW Golf speeding.
He signalled to the driver to pull over, but the father-of-two was hit by the car and thrown about 30m (100ft), "like a ragdoll", prosecutor Jonathan Rees QC said.
Mr Duncan, who had been with the Met Police for 23 years, was taken to hospital but died later of multiple injuries.
The court heard Cody, of Holland Road, was on his way to a Krispy Kreme doughnuts outlet with four friends when he struck the officer.
Enjoying his 'notoriety'
Cody fled from the scene and abandoned the vehicle but later rang his father saying he had "done it this time". He followed his father's advice and surrendered to the police.
In a statement, a prison officer said while incarcerated Cody appeared to be "extracting a degree of satisfaction from his notoriety" and gloated to others that he was "the one who ran the policeman over" and told them footage of the incident was on YouTube.
The court heard he told fellow prisoners: "I'm probably on the telly all over the world."
He also kept a collection of newspaper clippings in his cell, the court was told.
In an impact statement PC Duncan's wife Claire said: "We are devastated - I have lost my husband and our children have lost their father.
"They are struggling with this every day. My daughter has said that she is so upset that her dad had so much more to teach her.
"My son has said that he no longer wants to learn to drive. He was my world - we are truly devastated."