Man critical after bus collision stabbing in Stockwell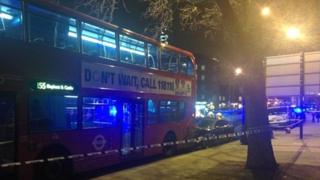 A man has been found stabbed in a car which was involved in a collision with a bus in south London.
Officers were called to Stockwell Tube station at 17:30 GMT to reports of a fight on a bus near the station, and then to a car involved in a bus crash.
"A man aged about 30 who was in the car that was involved in the collision was found stabbed," police said.
The incident happened in Clapham Road and the man is in a critical condition. No arrests have been made.