RMT boss apologises to commuters but says strike 'is on'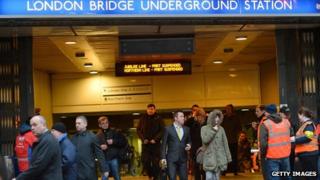 Union leader Bob Crow has apologised to London commuters over last week's Tube strike but said a second strike "is on" for Tuesday night.
Mr Crow said Transport for London (TfL) had to "move its position" to avoid a second strike, claiming a lack of consultation on future Tube plans.
Meanwhile Mayor Boris Johnson's decision not to meet with Mr Crow has been called "macho nonsense" by an MP.
The Mayor described comments by Emily Thornbury MP as a "sexist assault".
Speaking on BBC London's Sunday Politics show, Ms Thornbury, MP for Islington South and Finsbury, asked the mayor why he would not meet with Mr Crow.
'Macho nonsense'
"It's just the most ridiculous bit of willy-waving I've ever seen. It's macho nonsense," she said.
Condemning her comments, Mr Johnson said: "We have engaged with the unions at every stage... this change is going to happen."
The network was thrown into chaos for 48 hours after members of the National Union of Rail, Maritime and Transport Workers (RMT) and Transport Salaried Staffs' Association (TSSA) walked out on Tuesday night for the first 48-hour strike. Normal services resumed on Friday.
Strike action took place over plans to close all Tube ticket offices and cut jobs.
Transport for London (TfL) has said its proposals, which would lead to almost 1,000 job losses, would save £50m a year.
Speaking to BBC London, RMT leader Mr Crow apologised to passengers.
"The strike is on Tuesday night unless the company (TfL) move their position," he said. "They can't expect our union just to get a letter saying 950 jobs are going and that's what we're doing.
"We want the company to sit down and take the pressure off; we remove the threat to strike and they remove the threat to take staff off the platforms."
TfL said there was a contingency plan in place for when strike action was confirmed.
"London Underground have asked for frequent talks with the unions and they've managed to turn up for some meetings, so there has been consultation," said a TfL spokesman. "Talks have already started with the unions on Friday and will continue on Monday."