Lee Boxell case: £20,000 reward over 1988 missing case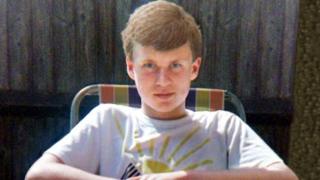 A £20,000 reward has been offered after the disappearance of a teenager who may have been murdered 26 years ago.
Police fear Lee Boxell, then 15, was killed after either witnessing child abuse or being sexually assaulted himself, in Cheam, south-west London.
The reward has been offered for information leading to the recovery of Lee's body and convictions in the case.
The Met Police said it was aware of paedophile activity in the Cheam area at the time Lee disappeared.
Lee, who would be celebrating his 41st birthday this week, used to attend an unofficial youth club in an out-building at St Dunstan's Church in Church Lane, which was known locally as the "shed".
Paedophile activity
It was a place where youngsters could gather to drink and smoke.
It is possible that he had gone there to meet friends the day he went missing, on Saturday 10 September 1988.
Det Insp John McQuade, said: "We hope the offer of this reward may encourage people who have not previously felt able to come forward to now do so.
"We are still appealing for any victim of sexual assault around that time, linked to the area or the shed, to please contact us in confidence.
In the Metropolitan Police Service's longest ever forensic archaeological dig, police spent a year excavating St Dunstan's churchyard. Nothing was found.
Peter Boxell, Lee's father, said: "We, Lee's family, need answers to what happened to Lee. Someone in this community can give us those answers.
"Please help us bring Lee home."
Mr Boxell has released a recording of a song called Where Is Lee? that he sang at the Missing People Carol Service, hosted by Sir Trevor McDonald, in December.