Cycle-hire scheme health benefits 'outweigh risks'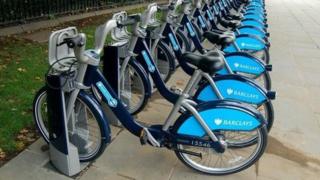 London's cycle hire scheme provides a health benefit to users that outweighs the risks of riding them, a study has found.
Research published in the British Medical Journal found that the positive effects were greatest for older users.
Scientists analysed health improvements from riding the bikes with the potentially harmful effects of physical injury and inhaling traffic fumes.
Senior report author Dr Anna Goodman said the findings were "reassuring".
Injury rates
Dr Goodman, from the London School of Hygiene and Tropical Medicine, said: "When the cycle hire scheme was introduced, there were widespread concerns that increasing the number of inexperienced cyclists in central London would lead to higher injury rates.
"On the contrary, our findings suggest that the scheme has benefited the health of Londoners and that cycle hire users are certainly not at higher risk than other cyclists."
During the research, which was carried out between April 2011 and March 2012, more than half a million users made 7.4 million trips on the rented bikes.
The report by researchers from the Medical Research Council, London School of Hygiene and Tropical Medicine and University College London said the scheme had been used by more younger adults and men.
The authors suggest that reducing the injury risks cyclists face, as well as encouraging the use of the scheme among older people, would further increase the health benefits.
HGV collisions
The results of the computer modelling study found that the benefits outweighed the harms when looking at injury rates for people riding cycle-hire scheme bikes.
However when injury rates for cycling across the whole of London were taken into account the net gains from hiring bikes reduced and disappeared for women, partly due to higher death rates among female cyclists following collisions with HGVs in the capital.
The study authors based their findings on records of all of the journeys made on hire bikes during the year, as well as data on road accidents, air pollution, physical activity and health.
Health benefits were determined using a measurement called Disability Adjusted Life Years (Dalys), which are the number of years lost to life through illness, disability and premature death. A reduced number of Dalys represented a health benefit.
The London cycle hire scheme, which is sponsored by Barclays bank, was introduced in 2010. Around 10,000 bikes are available across 723 docking stations in London.
In December, Transport for London data revealed the number of journeys on cycle-hire had fallen by 200,000, almost a third, compared to a year ago.