'Four bus drivers a day' attacked in London, figures reveal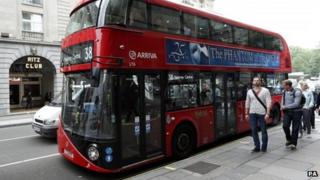 An average of four bus drivers a day were attacked or verbally abused in London over the past three years, figures show.
The Freedom of Information Act figures also reveal 38% of incidents involved assaults or weapons brandished.
A total of 4,967 incidents were recorded over three financial years.
Conservative London Assembly member Roger Evans, who obtained the figures, called for undercover police to carry out "sting operations".
He has also called for a full review of policing across all of public transport in London.
"The number of bus drivers facing physical attack or verbal abuse on London's bus network is alarming," he said.
"Nobody should have to put up with threats or violence while doing their job.
"I fully appreciate that money has been invested in patrols on our buses by the police however we need to go further."
Protective screens
The figures from Transport for London (TfL) show that in 2010-11 there were 1,471 incidents, including 549 physical assaults. A driver was threatened 25 times with a weapon, and there were 747 incidents of verbal abuse.
The 1,864 reports in 2011-12 included 715 assaults, 24 threatened with weapon, and 991 verbal abuse; while the 1,632 the following year included 536 assaults, 15 threatened with weapon and 981 verbal abuse.
TfL said there were "Workplace Violence Units" for front-line bus and Tube staff, which support the investigation and prosecution of assaults on all operational staff, as well as a CCTV investigation team.
Bus drivers also have instant radio access to a control room which is linked to police officers and they have protective screens, TfL said.
TfL's director of buses, Mike Weston, said: "We do not tolerate threatening behaviour toward our staff, they are here to do a job and should be allowed to do so without fear for their safety."