Barcelona football fans urged to help find missing baby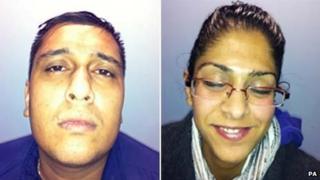 Barcelona football fans in England for a Champions League game have been urged to lookout for a missing baby when they return home.
Harrow Council, in north-west London, is searching for four-month-old Farah Afzal and her parents, Mohammed Afzal, 38, and Zainab Rasul, 30, who are believed to be in the Spanish city.
Appeals were made to fans at the Manchester City game on Tuesday night.
Harrow Council urged the parents "to do what is best for their daughter".
A High Court judge gave permission to identify the child in the hope that the publicity would lead to her discovery.
Child safety
Mr Justice Keehan said social workers had become involved because of concerns about the parents' ability to care for the child.
He said that Farah had been allowed to live with her mother while proceedings at the family division of the High Court continued.
However, council officials said the family had gone missing on 16 January and they believed that they had flown to Spain from Gatwick.
Harrow Council leader Susan Hall said: "My appeal is to those fans to keep their eyes open for baby Farah and her parents when they go home.
"The documentary evidence filed raises real concerns about the ability of the parents to care for the baby safely."
Interpol has been alerted and a police investigation has been launched, council officials said.