C1 bus strangler sentenced to eight years in prison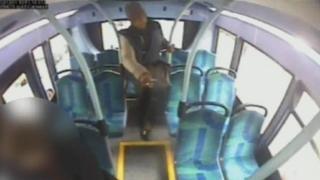 A man who strangled a passenger until he passed out on a crowded bus has been sentenced to eight years in prison.
Sibusio Majola, 33, from South Kensington, was found guilty of attempted murder at Isleworth Crown Court on Wednesday.
Majola was caught on CCTV using his scarf to strangle a 37-year-old passenger on the C1 bus in December 2012, police said.
The Met Police said it was a "totally unprovoked attack".
'Are you mad?'
The victim was on his way to the first day of his new job as security guard at about 13:15 GMT on 1 December 2012.
Majola got on the bus at Cresswell Gardens, in South Kensington, and sat behind the victim.
During the journey Majola asked him: "Are you mad?" to which the victim replied "No", officers said.
Majola then removed the black scarf he was wearing and tried to strangle the victim while saying "I will kill you", the victim passed out but managed to regain consciousness and free himself, police said.
He managed to run off the bus near Earls Court and reported the attack to two police officers in the street.
Majola continued his journey on the bus, but handed himself in to police after officers released CCTV images of the attack.
Investigating officer Thomas Norman, from the Met Police, said: "This was a totally unprovoked attack on a man who was travelling to work some distance away from where he lives in order to financially support his family.
"Although the physical injuries he sustained were not life-threatening, he continues to suffer distress and has only recently been able to return to work as a security guard."