Domenico Rancadore: Sicilian Mafia man 'no Don Corleone' courts hears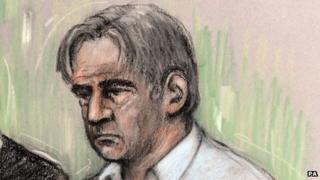 A convicted Mafia boss who went into hiding in west London for 20 years is no "Don Corleone", a court has heard.
Domenico Rancadore, 64, was arrested in Uxbridge in August where he was living with his family under an assumed name.
He was found guilty of Mafia association and extortion in Italy in 1999 and given a seven-year jail term.
But his lawyer told an extradition hearing the arrest warrant likening him to the fictional Mafia boss in The Godfather films was misleading.
'Travesty of judgement'
Alan Jones QC told Westminster Magistrates' Court that it was an exaggeration to describe Rancadore as "one of the heads of the Cosa Nostra [the Sicilian Mafia]".
He argued the Italian courts had simply found the former teacher guilty of being "an important point of reference for people at the top of the organisation" and that he bribed one person in 1987.
The defence counsel claimed the wording of the European arrest warrant was "distorting" and made a "travesty of the judgement" in Italy.
Mr Jones said that two warrants were issued for Rancadore last August and the second one had deliberately elevated his participation in the organisation.
He suggested someone must have looked at the first warrant and thought it would be better to "raise it to a different level of crime" as they thought "that must be what the British court is after".
The exaggeration had whipped up a huge amount of publicity "as though Mr Rancadore was Don Corleone", the barrister added.
Rancadore, who was known as The Professor in his native Sicily, moved to London in 1994 with his wife and two children.
He adopted the moniker Marc Skinner, using the maiden name of his British-born wife's mother.
Previously, the court heard Rancadore had fled Italy because he wanted "a normal life" for his family and had "cut every tie" to his past.
The prosecution allege he had been "deliberately absent" from the 1999 trial, where he was subsequently sentenced, and had deliberately "hidden" his identity as he knew he was a wanted man.
The hearing was adjourned until 28 February.