Lewisham murder: Farhad Safi guilty of murdering wife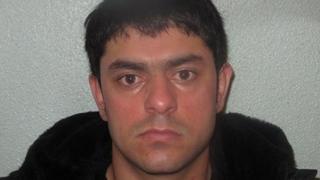 A man who killed his wife and tried to flee the country has been found guilty of her murder.
Farhad Safi, 23, of Eastdown Park, in Lewisham, was convicted of killing 21-year-old Orina Morawiec.
The Old Bailey heard that Ms Morawiec was found with multiple stab wounds in her home after she failed to turn up for a meeting with her mother in August 2013.
Safi had claimed that a gang had killed his wife in order to put him in prison.
Stab wounds
Ms Morawiec's mother had arranged to meet her daughter on 14 August, but after she failed to turn up she went to her house in Lewisham where there was no answer, police said.
She returned the next day and after getting no response she alerted the police who broke into the house and found her daughter's body.
Post-mortem tests showed she died of multiple stab wounds.
Safi, who had not been seen since the murder, was spotted by members of the public walking along the A20 dual carriageway near the entrance of the Eurotunnel in Kent two days later, police said.
He was arrested and later charged with murder.
Safi is due to be sentenced at the Old Bailey on Thursday.
Police said Safi had never given a "true explanation" as to why he murdered his wife.
Det Ch Insp Graeme Gwyn said: "Orina had her whole life ahead of her and this was brutally taken away from her.
"Orina's mother has been left completely devastated and I hope that today's conviction brings a small amount of solace to her family."