PC Keith Blakelock murder trial: Estate 'impossible to police'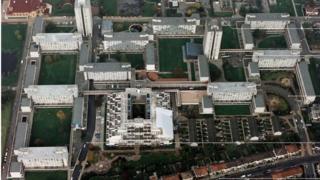 The estate where PC Keith Blakelock was stabbed to death during the first Tottenham riots was "impossible to police", a court has heard.
Mr Blakelock, 40, died trying to protect firefighters tackling a blaze at the Broadwater Farm estate on 6 October, 1985.
At the Old Bailey, Nicholas Jacobs, 45, denies his murder.
The highest-ranking officer at the scene said the estate had been singled out for its potential for disorder.
The court heard former Metropolitan Police Commissioner Sir Kenneth Newman had put together a list of "symbolic areas" police needed to keep an eye on at the time, which included the estate.
But Ch Supt Colin Couch, who worked in the area's police station, told the court the estate was not on the list because of crime, but because anyone could cross it from one side to another without descending to street level, making it "impossible to police".
"We were policing it very sensibly," he added.
Violence broke out after local woman Cynthia Jarrett died of a heart attack as police searched her house.
Mr Couch told jurors: "Tottenham was a working-class, multi-ethnic area and after the death of Cynthia Jarrett I was concerned that we would witness disorder."
He said on the day of the riots he had met Mrs Jarrett's family and community leaders.
But asked by Courtenay Griffiths QC, for the defence, if a contingency plan had been put in place for riots, Mr Couch replied: "No, there wasn't."
The court heard after Mrs Jarrett's death, tensions had gone from being "nose to nose, but not violent" during the afternoon to a full onslaught at night, when disturbances broke out.
Waiting outside after sending PC Blakelock's unit and firefighters into a building to deal with a blaze, Mr Couch later saw two officers running out and then a "silver lump" lying on the ground.
Then, he said, "four or five jumped on him and appeared to stab him".
Asked about criticisms he received afterwards from rank-and-file police officers, Mr Couch said: "They didn't have the decision to make. I did."
'Shadow cast'
There have been three police investigations into the murder, one immediately after the riots, another in 1992-93 and again in 2000.
The convictions of three people in 1991 were quashed after questions were raised about the police interviews.
A second investigation between 1992 and 1994, which offered immunity from prosecution for those in the mob who had kicked rather than used weapons on Mr Blakelock, did not result in prosecutions.
Two police officers, Det Ch Supt Graham Melvin and Det Insp Maxwell Dingle, were charged with perverting the course of justice. They were acquitted in July 1994.
Questioning the officer in charge of the 2000 investigation, Det Supt John Sweeney, Mr Griffiths suggested the initial investigation into the riots had been "tainted by corruption and dishonesty from the highest level".
"I am going to suggest that the first investigation still casts a shadow up until now on all subsequent police investigations," he added.
Asked if mistakes had been made by the police in community relations ahead of the riots, Mr Sweeney said: "I accept that perhaps it wasn't the best time in the Metropolitan Police's community relationships but we have learned a lot over the years."
The trial continues.