Buskers lose Camden Town legal fight over rules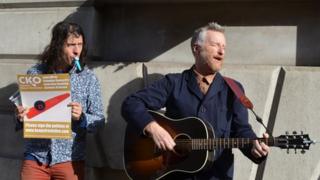 Buskers have lost their legal fight to have new licensing restrictions in north London overturned.
Campaigners had launched a legal challenge over plans to introduce licences for performers after increased noise complaints from residents in Camden Town.
However, the High Court ruled that the policy was "both necessary and a proportionate response".
The legislation allows fines of up to £1,000 and confiscation of equipment.
The legal challenge was against a Camden Council decision on 11 November to license any person busking in the borough.
At the High Court Mrs Justice Patterson dismissed claims that the council's policy breached the human rights of buskers.
'Draconian licensing policy'
The judge said the council had adopted a policy which balanced promoting economic growth and residents' concerns and in her opinion was lawful.
The campaign group Keeping Streets Live, which brought the action and had the support of musicians such as Billy Bragg, was ordered to pay £7,500 in legal costs.
David Wolfe QC, who represented the group, asked for permission to appeal, arguing a ruling in favour of the council would have an impact on street entertainment across London.
The judge refused permission and campaigners have said they will now take the case to the Court of Appeal.
Rosa Curling, a lawyer from solicitors Leigh Day who are representing the Keep Streets Live Campaign, said: "The council's draconian licensing policy is unnecessary, unlawful and threatens the very essence of what makes Camden such an important cultural space."
From 24 March buskers will be able to apply for a 12-month licence. A standard annual licence will cost £19 and permit performances between 10:00 and 21:00.
The licensing restrictions were due to start last month but the council agreed to await the outcome of the High Court ruling before enforcing them.
Councillor Maryam Eslamdoust, chair of Camden's licensing committee, welcomed the ruling, saying: "We look forward to a flourishing busking scene which also respects the rights of everyone in the community."