Met drops legal challenge over undercover sex claims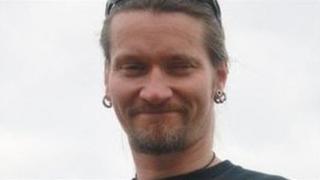 The Metropolitan Police has dropped a legal bid to stop claims being brought by women who had sexual relationships with undercover officers.
The force said it "would not be appropriate " to go ahead with an application to strike out the claims.
It would "maintain the principle of neither confirm nor deny" to protect the officers' identities, it said.
Scotland Yard is being sued by women who claim they were deceived into relationships with undercover officers.
The force had applied to have the cases struck out on the grounds that the "neither confirm nor deny" policy meant that the force could not properly defend itself.
But in a statement, the Met said it made the decision to drop its legal bid in light of the upcoming public inquiry into undercover policing.
'Far-reaching implications'
The BBC's home affairs correspondent Danny Shaw said the compensation case involves five women alleging relationships with four police officers, but could have implications for up to a dozen in total.
A Scotland Yard spokesman said: "The Metropolitan Police Service has decided it would not be appropriate or proportionate to go ahead with the application to strike out the claims."
The force said any departure from its policy to "neither confirm nor deny" the identity of undercover officers during legal action would have "far-reaching implications".
"We are not prepared to discuss, at this stage, how we will proceed with defending these claims," said the spokesman.
In a statement, the women said they welcomed the "long, overdue decision" to withdraw the application.
"The police have failed thus far to provide a substantive response to the claims, and we hope that they will now do so without further delay.
"We expect the police to stop prevaricating and acknowledge the harm done by their officers."
A number of allegations have been made since it became known in 2011 that former PC Mark Kennedy had spied on environmental protesters posing as long-haired dropout Mark "Flash" Stone and had at least one sexual relationship with an activist.
It is claimed that five undercover officers engaged in infiltrating environmental campaign groups between the mid-1980s and 2010 had relationships with the women, lasting from seven months to nine years.