Court veil row: Rebekah Dawson jailed for witness intimidation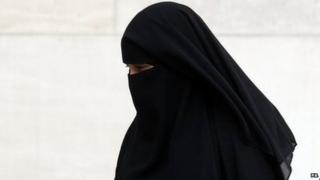 A Muslim woman, who refused to give evidence after being told she had to remove her face veil, has been jailed for witness intimidation.
Rebekah Dawson, 22, of Hackney, east London, was sentenced to six months in prison at Blackfriars Crown Court.
She had admitted intimidating security guard Daudi Yusuf at the Finsbury Park mosque in north London in June 2013.
The judge had ruled Dawson could wear her niqab but said she had to let the jury see her face if she gave evidence.
The jury was discharged when they failed to reach a verdict after the trial in January.
Dawson later returned to court and admitted the charge, which she had previously denied.
The case related a row between Mr Yusuf and Dawson's husband, Royal Barnes.
During the trial a police officer, who had been present when Dawson had her photograph taken after she was arrested, had to repeatedly go into a private room with the defendant to verify her identity.
The female officer then had to go into the witness box under oath and confirm that the woman under the veil was Dawson.
Earlier this month, Barnes and Dawson were jailed for posting videos on YouTube glorifying the murder of Fusilier Lee Rigby's murder.
Barnes, 23, of Hackney, recorded and uploaded three videos shortly after the murder in Woolwich, south-east London, last May.
He was jailed for five years and four months, while Dawson was sentenced to 20 months.