Budget 2014: London regeneration and housing plans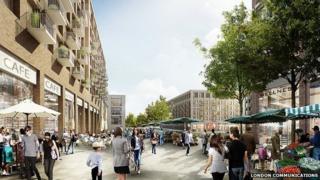 The chancellor has announced in his budget plans to build homes in Barking-Riverside, east London, and to regenerate Brent Cross in north London.
The government said it would work with London's mayor to extend the Gospel Oak to Barking Line to Barking Riverside.
George Osborne said investment would "unlock the construction of up to 11,000 new homes".
He also announced he would provide funding to secure the future of London's air ambulance.
Referring to the redevelopment of Brent Cross, the budget document said: "The government will work with the London Borough of Barnet and the GLA to look at proposals for the Brent Cross regeneration scheme, subject to value for money and affordability."
The Mayor of London's office says the Brent Cross scheme has the potential to deliver between 7,500 and 10,000 homes, up to 20,000 jobs and about £4.5bn of economic investment.
Barnet council leader Richard Cornelius said: "We have made the case that with further government support we can secure thousands of new homes at Brent Cross and bring forward the demolition and replacement of the Grahame Park Estate. We have this support."
The chancellor also announced plans to establish a £150m scheme for the regeneration of the country's worst housing estates.
City Hall sources told the BBC it was expected the majority of the £150m would go towards London housing estates.
London Air Ambulance, which works out of the Royal London Hospital, in east London, said the announcement on its future would mean £1m for a second helicopter for the charity.
London Mayor Boris Johnson said: "The commitments being made today will allow us to motor ahead with putting a platform in place that will allow us to deliver the new homes and jobs that are critical to the continued growth of this great world city."