John Terry's father fined for racial abuse, trial told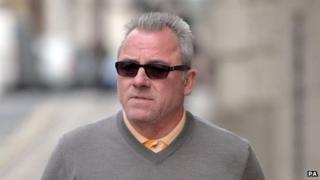 Footballer John Terry's father was fined for racial abuse two months after he was arrested for allegedly abusing an Asian man, a court has heard.
Ted Terry, 59, is accused of attacking Amarjit Talafair in the City of London last March and denies the charge.
But he admitted a racially aggravated public order offence over a separate incident at Barking railway station in May, the Old Bailey heard.
He was fined £200 in a court hearing a fortnight later, jurors were told.
The court was told that on 12 May, after missing his train at Barking station, he swore at station staff, called one of them a "moron" and asked: "What do you mean it's gone? How am I going to get home?"
In the court case on 24 May, Mr Terry admitted racially abusing a member of the public and calling him a "mongrel" after he was asked to stop swearing, the latest trial was told.
The Chelsea captain's father is accused of using threatening and racist language, including the word "Paki", to Mr Talafair.
Mr Terry, from Grays in Essex, denies one count of racially-aggravated common assault and one count of causing racially-aggravated fear or provocation of violence.
Stephen Niland, 36, from Quarles Park Road in Romford, Essex, and Tudor Musteata, 47, from Tarves Way in Greenwich, south-east London, deny one count each of racially-aggravated fear or provocation of violence.