Rapper Professor Green admits drink-driving and is banned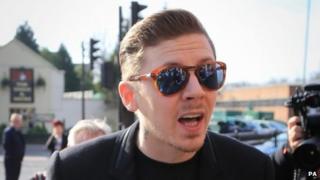 Rapper Professor Green has been banned from driving after admitting a charge of drink-driving.
The 30-year-old, appearing at Bromley Magistrates' Court under his real name Stephen Manderson, was also fined £525.
The court heard that Green got into his vehicle on 3 November after his £40,000 Rolex was stolen and he feared his wife was being chased by the thief.
Police were called to Tyrwhitt Road, Lewisham, where they found a Mercedes car and a van had crashed.
David Hislop QC, defending, told the court the rapper was robbed on the doorstep of his home.
The musician got into his car after hearing his wife Millie Mackintosh scream before she fled the area.
When Green was arrested by police he was found to have driven with 52 microgrammes of alcohol in 100ml of breath. The legal limit is 35.
Green told the court he would take a drink-driver rehabilitation course so that his 12-month disqualification might be cut to nine months.