John Terry's father Ted denies 'racist temper' claim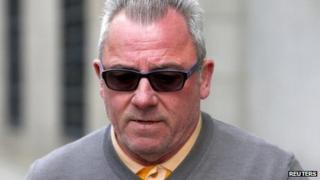 Footballer John Terry's father has denied at the Old Bailey that he has a "racist temper".
Ted Terry, 59, is accused of attacking Amarjit Talafair in London last March and using threatening and racist language, including the word "Paki".
Mr Terry, of Grays, Essex, and Mr Talafair had a row over a cigarette, the court has heard.
The Chelsea captain's father admits pushing his head against Mr Talafair's face but denies using racist language.
Mr Terry, a decorator, denies one count of racially-aggravated common assault and one count of racially-aggravated fear or provocation of violence.
His colleagues Stephen Niland, 36, of Romford, east London, and Tudor Musteata, 47, of Greenwich, south-east London, deny one count each of racially-aggravated fear or provocation of violence.
Earlier the court heard he was fined £200 after admitting a racially aggravated public order offence relating to a separate incident at Barking railway station in May.
'Can't play football'
Prosecutor Alex Chalk asked him: "Are you somebody who becomes aggressive in a heartbeat Mr Terry?
The defendant replied: "I wouldn't say so, no."
"Are you someone whose aggression flashes up at the most trivial provocation?", to which Mr Terry replied "no".
"When you get angry do you lash out with the first thing that comes into your head, which in your case is racist abuse?" He replied "no" again.
Referring to the incident in Barking in May, Mr Chalk asked: "This was just another incident where you became angry and aggressive at the most trivial trigger, isn't it?
"And you are now simply coming here to wriggle out of your own racist temper, aren't you?"
Mr Terry replied "no" to both questions.
Responding to questions from his defence barrister, Alexia Power, he told the jury being John Terry's father meant he was often taunted by people.
He said: "People say 'look that's John Terry's dad over there' and come up to ask things, or they might come up to and have a go and say 'your son can't play football', but you just have to take it and walk away."
But he told the court his son's fame or people's reactions had nothing to do with the incidents in March or May.
'No racist stuff'
The grandfather of six told the jury he had drunk about eight pints of beer in the Windsor pub, near Fenchurch Street station, with his colleagues before the row. The defendant said Mr Talafair had aggressively refused Mr Musteata a cigarette.
Mr Terry said: "I just said... go back downstairs', things like that. It wasn't no racist stuff."
He admitted that he did push his face against Mr Talafair's, but said if he had headbutted the alleged victim his glasses "would have gone flying".
Mr Niland, who said he had been celebrating his birthday at the pub, denied using racist language towards Mr Talafair or a black railway station cleaner in a second confrontation.
"I'm not a racist person. I have got two children who have got good black friends, Somali friends and from all different cultures."
Giving evidence in Russian through an interpreter, Mr Musteata denied Mr Terry had told him what to say to police.
The trial continues.