Man murdered housemate in 'slammed door' row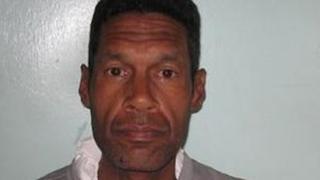 A man who killed his housemate after a row over a slammed door has been sentenced to 24 years in prison.
Paul Floyd Marshall, 51, from Enfield, north London, was convicted by a jury at the Old Bailey of murdering Orvil Brown, 47.
The pair, who shared a house in Elmhurst Road, had an argument on 12 July about a door that had been slammed, police said.
A fight ensued that led to Marshall stabbing Mr Brown in the neck.
Officers received a number of calls about the incident, including one from a neighbour who overheard the argument and another from a housemate who returned home to find Mr Brown lying in a pool of blood in the hallway.
Marshall also called the police and stated he had been involved in the incident.
Police and paramedics arrived at the property at around 02:15 GMT and found Mr Brown, who was pronounced dead at the scene.
Officers found the murder weapon in the front garden.
A post-mortem examination gave the cause of death as a stab wound to the neck and hypovolaemic shock.
Det Ch Insp Dave Whellams, of the Metropolitan Police, said: "Marshall callously stabbed Orvil Brown over what appears to be a trivial argument about a slammed door.
"I hope that today's conviction will bring a small amount of solace to Orvil's family."