Coroner's Tallulah Wilson advice deadline unmet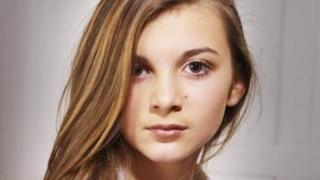 The government has responded to a coroner's demands after the death of a teenage girl - a day after the court's deadline for a response.
In January, St Pancras Coroner's Court heard Tallulah Wilson took her own life having posted self-harm images online.
Coroner Mary Hassell sent a series of demands to the Department of Health, giving it until 31 March to supply a timetable for the changes.
The solicitor for Tallulah's family received the response on 1 April.
Tallulah, 15, was run over by a train in Kings Cross in 2012, with the coroner recording a narrative verdict that she took her own life.
The inquest heard she had shared graphic self-harm content on the social networking site Tumblr.
After Tallulah's death, her mother spoke of her daughter being involved in a "toxic digital world".
Following the inquest, Ms Hassell wrote to Health Secretary Jeremy Hunt about what lessons could be learned.
In this report, obtained by BBC London, the coroner called on the department to carry out more research, develop improved clinical practice and refine risk assessments.
Mr Hunt was told to respond by 31 March with either a timetable for action to be taken, or an explanation of why no action was proposed.
Ms Hassell wrote: "In my opinion, there is a risk that future deaths will occur unless action is taken.
"Although Tallulah was treated by a number of healthcare professionals, no person who gave evidence felt they had a good enough understanding of the evolving way that the internet is used by young people, most particularly in terms of the online life that is quite separate from the rest of life.
"Action should be taken to prevent future deaths and I believe that the Department of Health has the power to take such action."
'Series of measures'
Helen Goodman MP, shadow minister for culture, media and sport, said: "These issues are incredibly important for young people's safety.
"The government really should not be missing deadlines set by the courts in dealing with them.
"There may well be other young people in a similar situation to Tallulah and we must avoid any repetitions of this tragic case."
The BBC is yet to see details of the government's response.
A Department of Health spokeswoman said: "The government takes the issue of child safety online very seriously and has set out a series of measures to help keep children safe online."
She added: "The new national curriculum will see children aged five to 16 taught about internet safety in a sensible, age-appropriate way.
"This is a really important step. Self-harm is a serious issue and both social media sites and users should point anyone talking about harming themselves to places they can get help."
After the inquest, Tumblr said it was "committed to continually improving our ability to act on self-harm content".
The website said it would "remove those posts or blogs that cross the line into active promotion or glorification of self-harm".
But in February, BBC London found more than 200 graphic images of self harm were still available on the site.
An automatically-generated box invited non-members to sign up to see similar content, while users were openly discussing self-harm tips, with posts left online for days.
Tumblr encouraged users to report blogs glorifying self-harm to abuse@tumblr.com.