PC Keith Blakelock murder trial: Accused will not give evidence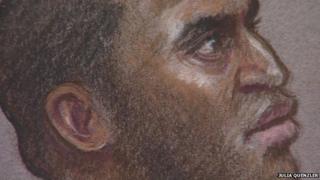 A man accused of the murder of PC Keith Blakelock during the Broadwater Farm riots in 1985 will "exercise his right not to give evidence".
Nicholas Jacobs, 45, denies murdering the 40-year-old officer during the riots in Tottenham, north London.
PC Blakelock was stabbed 43 times when he was set upon by an armed mob as officers went to assist firefighters.
A witness told the Old Bailey trial he had seen the accused, who was then 16, attack the PC in a "stabbing motion".
After the prosecution closed its case, Mr Justice Nicol asked defence barrister Courtenay Griffiths QC whether he had advised his client that if he chooses not to give evidence "the jury may draw such inference from his failure to do so".
Mr Griffiths replied: "I have advised him and the defendant chooses to exercise his right not to give evidence."
Addressing the jury, the judge said not to reach any "final conclusions" before he had finished summing up the case.
The case will resume on Thursday.