Brixton riots shooting legal aid campaign goes to Downing Street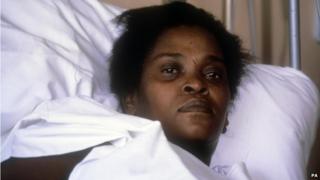 The family of a woman shot by police, triggering the 1985 Brixton riots, have taken their battle for legal aid to Downing Street.
Cherry Groce was paralysed below the waist when she was shot and her family have now presented a petition of 129,000 signatures to the government.
They are demanding legal aid so they can be adequately represented at her inquest this summer.
Mrs Groce died in April 2011, having spent 26 years in a wheelchair.
She was accidentally shot by police, who were seeking her son Michael, during an early morning raid on her home.
Dozens of civilians and 10 police officers were injured in the unrest in Brixton, south London.
A police marksman, Insp Douglas Lovelock, shot Mrs Groce and stood trial in 1987 charged with inflicting unlawful and malicious grievous bodily harm but was acquitted.
Mrs Groce's inquest is due to take place in June and documents obtained by Channel 4 News have revealed that pathologists for both the family and the police concluded there is a causal link between the shooting and her death.
But her family's request to obtain legal aid for representation at the inquest has been denied, prompting them to launch an online petition.
'Difficult decision'
Mrs Groce's son Lee Lawrence, who was 11 years old when he saw his mother shot, said: "The prime minister has the power to say our call for legal aid is in the public interest.
"It will not bring our mother back but it will bring her justice. She waited her whole life for justice, we owe her that."
A Legal Aid Agency spokeswoman said: "This was a difficult decision which was not taken lightly.
"An inquest is aimed at helping families find out the circumstances behind the death of their loved one.
"The coroner is there to investigate the death and can put questions on behalf of the family during proceedings."