Revoking Waltham Forest soup kitchen licence 'unlawful'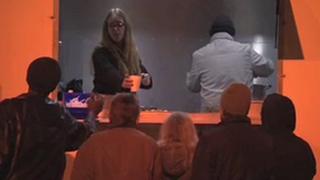 A council's decision to revoke the licence of a soup kitchen which has been running for 25 years has been ruled "unlawful" by the High Court.
Charity Christian Kitchen runs its service in a car park in Mission Grove in Walthamstow, east London.
The court has asked Waltham Forest Council to reconsider its April 2013 decision saying "the impact of closure" on vulnerable people was not assessed.
"Safety concerns" had prompted the council to ask the charity to move.
The authority had offered an alternative location in a lay-by at the Crooked Billet roundabout, but the charity rejected it citing safety and accessibility issues.
'Vulnerable users'
Mrs Justice Simler said the council had not complied with equality legislation, adding it was "a well-known local institution attracting praise from politicians".
"However, anti-social behaviour, including street drinking, violent and intimidating behaviour, has been associated with users of the soup kitchen - albeit its extent is hotly contested - and Walthamstow High Street is undergoing substantial physical regeneration works leading the council to conclude that the licence at Mission Grove should be revoked.
"The council should have considered the likely impact of its decision on the vulnerable users of the soup kitchen on the basis that the soup kitchen would close rather than on the wholly unrealistic basis that they would suffer little or no detriment because the soup kitchen could relocate to the lay-by at Crooked Billet, which was well served by public transport."
Volunteers run the soup kitchen, providing about 80 hot meals a night, all-year round.
'Magnet for trouble'
Alex Rook, a specialist lawyer at Irwin Mitchell which represents the charity and its users, said: "There were serious concerns that many of the current users of the service simply wouldn't be able to get to the proposed new site but this decision ensures that the soup kitchen can now continue to operate at its current site."
Norman Coe, chair of the trustees of Christian Kitchen, said: "Hopefully now the council will work with us to find a solution that meets everyone's needs."
Saying the council only intended to relocate the soup kitchen, Councillor Clyde Loakes, cabinet member for environment, said: "We are disappointed by the judge's decision but will review the findings and continue to talk with Christian Kitchen to find a way forward.
"We appreciate that the majority of the people who use the soup kitchen are law-abiding, but the current site has sadly become a magnet for some people who want to cause trouble."