Pedestrian hit by police car in west London 'critical'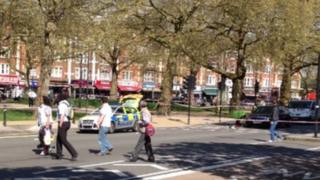 A pedestrian has been hit by a police car on an emergency call in west London.
The 51-year-old man was struck on the Shepherd's Bush Green and Rockley Road junction at about 11:15 BST.
Scotland Yard said the vehicle was travelling to help two police officers who had called for assistance but claimed it did not know if the sirens and emergency blue lights were in use.
The pedestrian is said to be in a critical condition.
The Metropolitan Police said it had referred the crash to the Independent Police Complaints Commission (IPCC) for consideration.