Transport for London staff vote to take strike action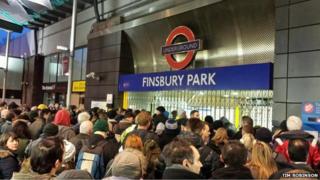 Senior staff at Transport for London have voted to take strike action in a row over pay and pensions.
Supervisors and managers at the Transport Salaried Staffs Association are protesting about cuts to final salary pensions and a wage freeze.
The union said 1,000 staff had backed the action 3-1. The turnout among staff was 47%. A walkout could be within the next four weeks.
Transport for London said disputes were solved by talking and not via strikes.
Manuel Cortes, the union's general secretary, said: "We took action in February to defend our members' jobs in the ticket office closure dispute and we are now ready to do the same at TfL."
TfL's Human Resources Director Tricia Riley said: "As with arrangements at any modern organisation, our proposed changes will ensure that our non-operational staff, who provide valuable management and support functions, are fairly paid based on their performance and their pay is relative to the external jobs market."