Pudding Mill Lane DLR station moved for Crossrail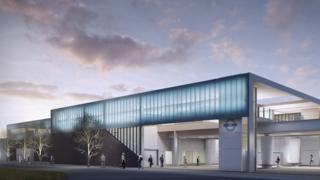 Docklands Light Railway's (DLR) Pudding Mill Lane stop has shut to make way for a much larger station after Easter.
The station is being moved about 100m (330ft) to make way for Crossrail.
Transport for London said the new facility, opening on 28 April, would be the largest on the DLR and increase capacity by 1,100 people per hour.
There will be no services between Stratford and Bow Church until 25 April and Stratford and Poplar for the following three days.
Replacement buses will be in operation while Pudding Mill Lane station is closed.
The first Crossrail services through central London will start in late 2018.