Prince Charles play's London Underground poster censored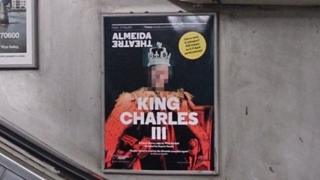 Promotional theatre posters featuring Prince Charles with tape over his mouth have been censored in London Underground stations.
The posters advertise the play King Charles III, which has opened at Almeida Theatre.
Those in the stations have had Charles's face pixelated.
Transport for London said the "over enthusiastic" decision was made by its advertising contractor.
A TfL spokeswoman said the decision was made "without reference to them".
"It does look to have been a little over enthusiastic. We will speak to them about it," she said.
Exterion Media, which according to its website, is the "sole provider of advertising opportunities on the London Underground", was unavailable for comment.
Almeida Theatre was also unavailable for comment.