Cyber gang leader Tony Colston-Hayter jailed for bank scam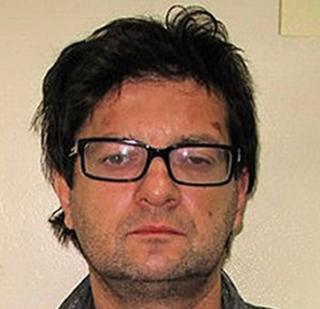 The leader of an internet gang which stole £1.25m from banks has been jailed for five-and-a-half years.
Tony Colston-Hayter, 48, led the gang which used a "Trojan horse" device to hijack computers at branches of Barclays and Santander.
They also stole credit and bank card details from about one million intercepted letters and used the money to buy Rolex watches and jewellery.
Nine others were also sentenced at Southwark Crown Court for the scam.
Judge Juliet May QC told Colston-Hayter: "There is no doubt in my mind that you played a key operational role in taking forward and implementing these plans."
The court heard his life - he had once been a well known Acid House promoter and had appeared on the Jonathan Ross show - started to go wrong after he began abusing Class A drugs.
The judge told him: "I gather you've taken just about every kind of mind altering substance over the years."
The court heard that the "sophisticated and organised" attack on the banking system happened in 2012 and 2013.
A device known as a keyboard video mouse (KVM) was used to switch access and control Barclays and Santander bank accounts remotely.
The KVM device was used to make 128 transfers worth about £1.25m to accounts set up to launder the stolen cash.
The group accessed Barclays' IT system when Darius Boldor, 34, walked into a branch in Swiss Cottage, north London, on 4 April last year.
Three months later, Dean Outram, 32, went into the Lewisham branch of Barclays and illicitly gained access to its computers, stealing £90,000.
Two months after that, he managed to access Santander's IT system by fitting a KVM switch into a bank computer at one of its branches in Surrey Quays, south-east London.
The court heard that Lanre Mullins-Abudu, 25, and another man tried to hack into Santander's banking system to steal what police warned would have been "substantial funds".
This cyber attack was thwarted when police raided an address in Hounslow, west London, and arrested Mullins-Abudu and nine others. Outram was arrested nearby after he left the bank.
As well as the cyber attacks, the gang used about 500 stolen or intercepted bank and credit cards to go on expensive shopping sprees.
They got the details by using a sophisticated device which "spoofed" genuine bank numbers, phoned customers and tricked them into handing over their personal details and pin numbers.
Victims of their scams included London Metropolitan University and the University of Portsmouth.
The men jailed were:
Lanre Mullins-Abudu, 25, of Putney, for eight years
Steven Hannah, 53, from Marylebone area, for five years, 10 months
Tony Colston-Hayter, 48, from Marble Arch area, for five-and-a-half years
Darius Valentin Boldor, 34, from near Sloane Square, south-west London, for two years six months
Dean Outram, 32, Kensal Green, north-west London, for three years
Adam Raeburn Jefferson, 38, of Milton Keynes, for one year and four months, suspended for two years
Segun Ogunfidodo, 27, of White City, west London, for nine months, suspended for two years
Dola Leroy Odunsi, 29, of Abbots Langley, near Hemel Hempstead, for nine months, suspended for two years
James Lewis Murphy, 39, of Ebury Bridge Road, south-west London, for six months; however, the sentence has already been served in custody
Martin Thane, 32, west Brompton, south-west London, was previously sentenced to six months conditional discharge, and ordered to attend a rehabilitation clinic for six months
Four others are to be sentenced in June for charges including conspiracy to commit fraud and money laundering.