Raids follow BBC 'stolen phone' undercover probe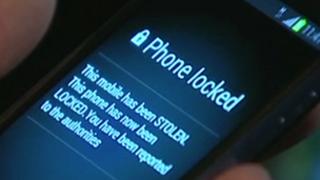 Police have carried out a series of raids in east London, following a BBC London investigation into shops willing to deal in stolen smartphones.
Traders in Ilford bought Samsungs and iPhones from an undercover researcher posing as a thief.
London Mobiles Limited and one other shop both paid cash for the devices - despite the researcher making it clear they were stolen.
Officers raided both shops and one other business, making one arrest.
A nearby residential address was also searched.
Officers found a laptop and two smartphones, all of which are suspected to have been stolen.
A 33-year-old man was arrested on suspicion of handling stolen goods and taken to a central London police station. He has been bailed pending further enquiries.
It is understood the suspect has links to all three businesses.
Police from the National Mobile Phone Crime Unit acted as part of Operation Neptune.
A spokeswoman said: "It is the intention of Operation Neptune to make London's high streets a hostile environment for both thieves and handlers of stolen goods.
"By devaluing stolen items the operation will make this market secure and far less lucrative and difficult to operate in."
The BBC's investigation began after intelligence was received that shops across a swathe of east London were happy to buy phones from thieves.
On receiving tip-offs about numerous rogue businesses, eight used smartphones were acquired by lawful means.
Each smartphone was personalised with images and backgrounds with contacts added, calls made and messages sent.
Locked phones
They were then all blocked or reported stolen to the networks.
The undercover researcher then offered the phones for sale - typically with messages on the screens reading: "This mobile has been stolen. This phone has now been locked. You have been reported to the authorities."
All the phones used had 'find-my-phone' style blocks activated, and in theory their IMEI numbers meant they are not useable once reported stolen.
But an expert demonstrated to the BBC how simple it was to get around such features, using only a laptop.
He was able to give a device a new IMEI number - effectively changing the phone's fingerprint - meaning it could be used as normal.
In total, the BBC received intelligence on some eight shops willing to trade in stolen smartphones.
The shops involved have all declined to comment.