Man admits spraying 'Islam' on RAF Bomber Command Memorial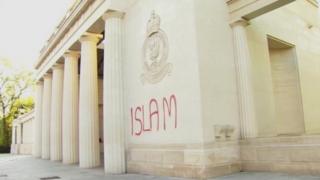 A man has admitted spraying the word "Islam" on war memorials in central London just days after the murder of soldier Lee Rigby.
Andrew Patterson, 31, of Alfred Road, Westminster, vandalised the RAF Bomber Command War Memorial in Green Park on 27 May last year.
He targeted two further memorials as part of a spree causing £56,909 of criminal damage across the city.
He will be sentenced at Southwark Crown Court on a date to be set.
It was less than a week after the killing of Fusilier Rigby outside Woolwich Barracks, that Patterson vandalised the memorial that was built in memory of the RAF crews killed in World War 2.
On the same day, he also wrote the word "Islam" on the Animals in War Memorial in Hyde Park.
'Greatly saddened'
About a week earlier, he caused £11,550 of damage to the Australian War Memorial when he stole its Rising Sun plaque.
The damage to the RAF Bomber Command War Memorial alone was put at £6,500, while that to the Animals in War Memorial at an additional £2,766.
Westminster Magistrates' Court heard that between 11 May 2012 and 22 June 2013, Patterson carried out 94 offences of criminal damage, including slashing car tyres, scrawling graffiti and smashing windows.
The 94 offences were brought together into 15 charges, to which Patterson's solicitor indicated guilty pleas on his behalf.
A week after Patterson's graffiti, the Bomber Command memorial was vandalised for a second time by Daniel Smith, from Salford.
Smith was jailed for 12 weeks in November last year for writing "Lee Rigby's killers should hang" and "EDL" on the memorial.
Air Marshal Chris Nickols, from the RAF Benevolent Fund, said: "We were greatly saddened by last year's graffiti attacks on the Bomber Command Memorial, which commemorates the enormous sacrifices made by so many during the Second World War.
"The cleaning-up of the memorial took up a significant amount of time and money for the RAF Benevolent Fund, which would have been much better spent on our major charitable object of helping members of the RAF family in their time of need."