GB has an underwater rugby team - but what is it?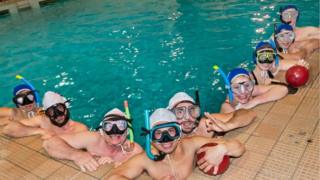 Great Britain's underwater rugby team is making its international debut at a competition in Italy on Saturday. But what exactly is underwater rugby?
If you are feeling confused about how Great Britain is fielding a team in a sport you have never heard of, rest assured, the majority of British people have never heard of it either.
To be fair, compared to other sports, it is a fairly recent invention.
Set up in Germany in 1961 by Ludwig von Bersuda, it was originally developed as a fitness game for scuba divers and the first competitive match took place in 1964.
The first World Cup was held in 1980 but it was not until last summer that the Great Britain team was set up by a Slovakian expat Oli Kraus.
"In Germany they're crazy about it, you have three leagues," said the 33-year-old.
"I used to play in Bratislava and when I was in Boston and Moscow and it was surprising finding there wasn't a team in Britain.
"It was really strange to me.
"In the beginning it was quite difficult [to recruit] because you had to explain it and people looked at you really suspiciously.
"It is still the only one and it's quite difficult to open an underwater rugby club because it's an unknown sport and because you need to hire a deep pool and they usually have all their slots filled so we are playing in unusual hours."
Now the team are travelling to Florence to compete in the two-day Firenze Cup against experienced teams from Switzerland, Austria, Denmark, Spain and Germany.
The game is played between two teams of up to 12 - six are in the water at a time - for 30 minutes.
Players wearing snorkels and masks pass the ball in any direction and try to get it into the opponents' goal which is on the bottom of the deep pool.
The ball, which is filled with salt water so it sinks, must not leave the water and "flies" about 2m to 3m through the pool before water resistance stops it, making underwater rugby a tactical game of strength, speed and mobility.
But the name is roughly where its connection with rugby ends - the ball can be passed forwards for instance - although it is a contact sport.
According to the official rule book from the Confédération Mondiale des Activités Subaquatiques (CMAS) (Underwater Rugby Commission) defenders may place a "foot softly on to the chest of the attacker" in order to keep them away and when the ball is blocked in a group, a player can free himself by "wiggling".
This is a tackling sport, however, it is governed by strict rules plus the water environment deflects any harder impacts so there are not many injuries while playing," said Mr Kraus.
"I don't think that it would qualify for a dangerous sport. I would rather call it an adrenaline sport."
The game is overseen by three referees - two underwater using hand signals and one on poolside - to ensure it is a safe game.
For Team GB the sport is so new that the 10 players selected to compete in the Italian competition all come from the same club, PURE based in Putney, which is affiliated to the British Sub-Aqua Club and the only club in the UK.
Not only is the Firenze Cup the club's first international tournament, it is also the team's first competition full-stop.
Michael Pavlovic - who has played the game in Germany for more than 20 years - compares it to Harry Potter when trying to explain its appeal.
"I think the popularity of this sport derives from it being the only really three-dimensional team game," he said.
"With this sport you can get as near to Quidditch [the fictional game played by wizards] as is possible in the muggle world."
Mr Pavlović said he often travelled to London and was previously disappointed to find the city had no team, but in February he had his first training session with PURE.
He said: "I found the team very enthusiastic and constantly gaining experience, and there is still a lot to learn for them."
Although the Firenze Cup may be a first for the British team, they will be going against strong, dedicated teams who have been training for years.
"German teams are really good, but also Czech teams and Austrian guys are really good too", Kraus said.
"It's going to be tricky because we're going to be competing against teams that have been playing and competing for at least 12 years, so I told everyone you're going there to enjoy ourselves and our aim is not to lose too much!"
Regardless of how the team fairs in this competition it will be back to the training pool once the final whistle goes as they already have invitations to compete at tournaments in St Petersburg, Graz in Austria and Madrid.