London mainline railway station staff strike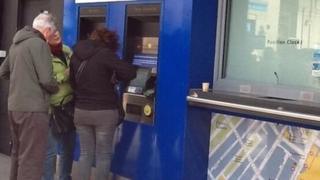 London's mainline railway station workers are staging a 24-hour strike over pay freezes and pension cuts.
The Transport Salaried Staffs Association (TSSA), Unite and the Rail, Maritime and Transport (RMT) began their strike 07:00 BST.
The strike has seen back-office staff walk out, affecting railway information centres and customer call centres.
Transport for London (TfL) said disputes were resolved "by talking and not by taking strike action".
TSSA general secretary Manuel Cortes said: "We did not ask for this dispute. It was created by TfL through their traditional combination of arrogance and incompetence.
"They have continued to refuse to discuss the key issues in dispute; market-related pay, reduced pay ranges, collective pay negotiations, pension cuts."
TfL said the proposed changes affected how staff would be awarded their "annual bonus" which is due to become performance-related.
Tricia Riley, TfL's human resources director, said: "Our proposed changes will ensure that our non-operational staff, who provide valuable management and support functions, are fairly paid based on their performance and their pay relative to the external jobs market."