Two men jailed for killing man in Ilford carjacking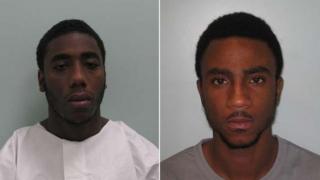 A man has been jailed for life for murdering a businessman who was stabbed to death as he tried to stop thieves stealing his car.
Rory Gordon, 23, of Chadwell Heath, was sentenced to life with a minimum of 30 years at the Old Bailey for the murder of Harjinder Singh Bhurji.
Mr Bhurji, 32, was stabbed in the heart and left on the side of the road in Ilford, Essex, in 2011.
Jae'Don Fearon, 21, from Chingford, was jailed for 13 years for manslaughter.
Jurors found Gordon unanimously guilty of murder and Fearon was convicted of manslaughter on 30 April.
The court heard that the pair only stood to gain £500 from the carjacking.
A third defendant, Andre Campbell, 23, was found guilty of a charge of handling stolen goods after exchanging the victim's iPhone for £100.
Campbell received a 12-month sentence, which was suspended for two years, and a 12-month supervision order.
The trial heard Mr Bhurji was parked in Stoneleigh Road, Ilford, talking to a female friend when the carjackers struck, pulling the woman out of the Mercedes SLK coupe and demanding the keys.
Mr Bhurji told them he did not have the keys and threw them behind the driver's seat but was then stabbed in the heart.
During the trial Gordon admitted stabbing Mr Bhurji and that he went to steal the car armed with a knife.