London's cycle hire scheme seeks new sponsor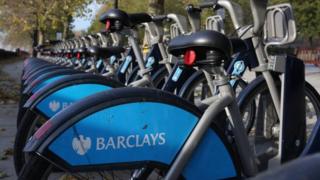 Transport for London (TfL) has begun the process of finding a new sponsor for its bicycle hire scheme.
TfL is looking for a backer to replace the original sponsor Barclays.
In December 2013, the bank said it would not renew its deal, which is due to end in 2015, following a "strategic review".
The new sponsor could be in place by early next year and it has the option to change the bike's colour scheme.
TfL has said the new sponsor would provide about £5.5m every year, for seven years.
Barclays bank had provided £25m for the scheme, which began in 2010, but cut its ties with the project even though Mayor Boris Johnson said in 2011 the bank would sponsor the bikes for a further three years up to 2018.
Caroline Pidgeon AM, leader of the Liberal Democrat London Assembly Group, said: "Many lessons need to be learnt from the exclusive sponsorship deal that the mayor and TfL struck with Barclays Bank.
"Above all else the contract was unnecessarily secretive and far too favourable to the bank.
"The bank should have paid far more for the benefits they had been granted under the sponsorship deal."