World Cup: Extra buses to get fans home after England match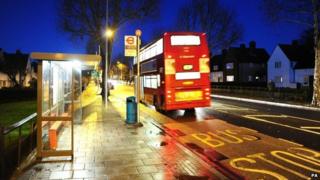 The Tube will not be extended for England's late World Cup game, London Underground (LU) has said.
Instead, 100 extra buses will be put on to help ferry fans who stay out to watch Saturday's match against Italy which kicks off at 23:00 BST.
In total there will be 970 buses which will be flexible enough to cope with any changes to the time the match ends and demand from passengers, LU said.
It said it was too late to change staffing levels on the Tube.
This was because of concerns over safety.
The rest of England's group games in the tournament all finish during normal Tube operating hours.
West End business owners had called for the extension.
Leon Daniels, Transport for London's (TfL) managing director of surface transport, said: "We have looked very carefully at all the options and it is clear that laying on a considerable number of extra night buses is the best way to help ensure football fans can get home after watching the game.
"These extra buses will supplement the existing extensive 24-hour and night bus service... this is by far the most effective way of getting people home all over the capital."
The mayor of London, Boris Johnson, said: "I want all of the England fans to enjoy the game on Saturday night which is why I have been working with TfL to ensure there are suitable provisions to get everyone home safely afterwards."