Three men jailed for grave in west London garden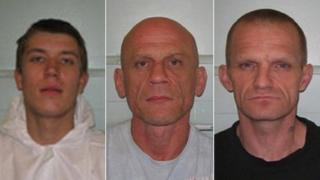 Three men have been jailed after the body of a man was found in a house in west London, where an empty grave was found in the garden.
The body of Zbigniew Michniewicz, 36, of Greenford Road, Greenford, was found inside the house on 5 December.
Arkadiusz Majchrazk, 45, got nine years for preventing the lawful burial of a body and causing actual bodily harm.
Piotr Juszczak, 21, got two years and nine months while Grzegorz Roznerski, 40, got two years and three months.
Juszczak, of no fixed address, was found guilty at Isleworth Crown Court of conspiring to prevent the lawful burial of a body along with Michniewicz, also of no fixed address.
Roznerski, from Slough, had pleaded guilty to the charge in March.
Police said the victim, a Polish labourer, and the defendants in the trial were all squatting in the house.
Metropolitan Police said officers found a 5ft-deep grave in the back garden following the discovery of the body in a bedroom.
The victim, who was unemployed at the time of his death, had been assaulted weeks before his body was found and a post-mortem examination showed he had several injuries.
But a pathologist concluded drug abuse rather than assault injuries were the cause of his death.