Woman killed by falling tree branch at bus stop in Willesden Green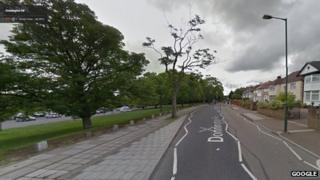 A woman has died after being hit by a falling tree branch while she waited for a bus in north-west London.
The 56-year-old woman was pronounced dead at the scene on Donnington Road in Willesden Green, at about 16:00 BST on Tuesday.
A man in his 70s was also hurt and he remains in hospital in a serious condition.
Brent Council has begun an investigation and police said a post-mortem examination will take place.
"This is a very sad situation and our thoughts are with the families and the victims of this tragic accident," a council spokesman said.
"At the moment we are unable to confirm the detail of what has happened. We will do so as soon as we receive further information."