Shammi Atwal lorry death: Six men jailed for manslaughter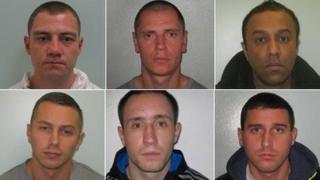 Six men have been given jail terms of between 11 years and 13 years for killing a cash-and-carry owner who was hit by a lorry as he chased robbers.
Shammi Atwal, 45, died outside Glen & Co Cash and Carry in River Road, Barking, east London, on 14 October.
Vidmantas Gorskoves, Aurimas Diliunas, Farhan Sheikh, Deibidas Sumskas, Reiniks Kivers and Edgaras Balezantis were sentenced at the Old Bailey.
The gang got away with £1,000, but were caught on CCTV.
The six defendants - five of whom are Lithuanian nationals and one British - were found guilty of manslaughter and conspiracy to rob on 13 May.
Gorskoves, 26, from Plaistow, was jailed for 11 years and four months
Diliunas, 27, from Walthamstow, was sentenced to 11 years and eight months
Sheikh, 39, from Islington, was sentenced to 13 years
Sumskas, 25, from Canning Town, received a sentence of 11 years and four months
Kivers, 28, of no fixed abode, was jailed for 13 years
Balezantis, 25, from East Ham, was sentenced to 11 years and four months.
Mr Atwal, one of the owners of the cash-and-carry warehouse, chased the gang who were armed with sledgehammers and metal bars.
He confronted one of the robbers on the street and was pushed into the path of a passing lorry which crushed and killed him.
Mr Atwal's wife, Damanjeet Kaur, said in a statement: "Shammi was the most loving husband and father.
"This is something we will live with for the rest of our life and I will see my kids grow up without their dad and I am finding that very hard to cope with.
"There are no words to express how we are feeling - we are just living. We miss him all the time and always will."