Man charged with racial assault at Music Now in Tottenham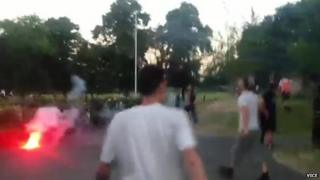 A man has been charged with committing racial and religiously aggravated common assault at a music event.
A man's kippah - Jewish skull cap - was pushed from his head during Music Now at Markfield Recreation Ground in Tottenham, north London.
The Met said a group of about 20 people, "predominantly male and from the Eastern European community" disrupted the event on Saturday.
Officers said during the disorder fireworks were thrown.
Jaroslaw Kwidzinski, 22, from Ashtead in Surrey, was released on bail until 14 July when he is due to appear at Highbury Corner Magistrates' Court.
In a separate incident, a 24-year-old Polish man was stabbed.
No arrests had been made over the stabbing.
About 100 people attended a vigil, organised by Unite Against Fascism group, held outside Tottenham Town Hall on Monday evening, to protest against the disorder.