Met Police arrest 450 in London-wide knife crime crackdown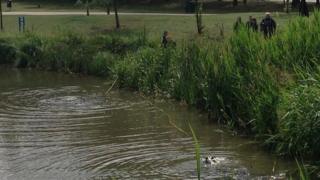 Up to 450 people have been arrested during a London-wide Metropolitan Police operation targeting knife crime.
About 5,800 officers in 32 boroughs are involved in Operation Big Wing which is looking into crimes like robbery, burglary and gang crime.
Police are serving warrants, conducting stop and search and have installed search arches at transport hubs.
Among those arrested was a boy of 15 who was found concealing a knife in his underpants in Islington, the Met said.
The arrests made since Wednesday morning includes a 17-year-old male arrested in Islington, north London, after a loaded revolver was discovered hidden in a moped outside his home and a man arrested in Hillingdon, west London, on suspicion of three recent knife-point robberies in Drayton.
'Considerable impact'
The Met said knife crime offences had fallen by 11.5% during 2013-14, with 1,300 fewer offences - the lowest figure in the last seven years.
The drop in knife crime offences was driven by the fall in robberies, the Met said, with knife crime robberies down 19% (1,300 fewer offences).
Violent knife crimes that resulted in injury had fallen by just 1%.
Crimes where a knife has been used to injure are down by 0.7% (22 fewer offences), which includes the number of injured victims aged under 25 years.
Temporary Det Ch Supt Gordon Allison, head of Trident which deals with gang and youth violence, said knife crime continued to have a "considerable impact" on London, hence "tackling weapon-related violence is a priority" for the force.
"In 2013/14, over 50% of murders were committed with knives in comparison with 12% involving a firearm and 43% of the UK's knife-related offences taking place in the capital."
Commander Stephen Watson, who is leading the operation, said: "Knife crime cuts across several crime types such as robbery, burglary and gang crime."