Bedlam burials: Skeletons unearthed by Crossrail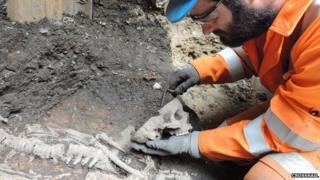 A team of volunteers is helping to track down records of hundreds of skeletons dug up under Liverpool Street station during work on Crossrail.
Crossrail estimates the site holds about 3,000 skeletons, some belonging to victims of the plague.
The victims were buried at the notorious Bethlem, or Bedlam, burial ground.
The burial site, also known as the New Churchyard, was opened in response to the plague.
Archaeologists working on the Crossrail project are excavating skeletons ahead of construction of the new Liverpool Street station, having removed about 400 during preliminary works.
The burial ground did not keep its own records, but the City's parish churches recorded which of their parishioners were buried at Bedlam.
A team of volunteers is searching through centuries of parish records now held at the London Metropolitan Archives and Crossrail has invited members of the public to send in any information they have about the burial ground or people buried there.
People believed to have been buried at the site include Robert Lockyer, a soldier executed under orders from Oliver Cromwell for leading the Bishopgate mutiny, and John Lilburne, an English political 'Leveller' during the English Civil Wars of 1642 to 1650.
Jay Carver, Crossrail's lead archaeologist, said: "The Bedlam burial ground is a unique site that spans a fascinating period of London's turbulent past.
"We're keen for anyone who may have family connections to the site, or anecdotes about the area to get in touch."
Full excavation of the Bedlam site will start in 2015.
Crossrail is a £14.8bn rail scheme connecting Reading and Heathrow in the west to Shenfield and Abbey Wood in the east.